Options For Outdoor Living Spaces in Houston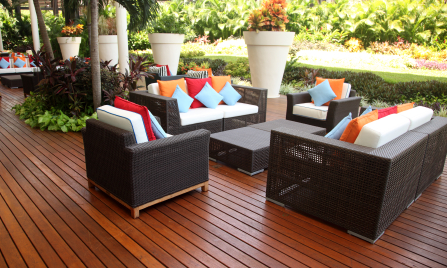 Lately, you hear the buzz words Houston outdoor living a lot and for good reason. With so many exciting options for expanding your home to encompass the great outdoors, it only makes sense. Of course it starts with understanding at least some of the exciting options that you have available to you for taking the inside of your home into your own backyard. It really doesn't even matter what size yard you have, there are always options for you to be able to incorporate outdoor living spaces into your home.
See Beyond the Interior Walls
Part of what made this trend really take off was the desire to host a social gathering outside and still be able to be part of it. Until now the options were for the host to either be stuck inside cooking while the guests mingled outdoors, or choose to grill outside and be included. With outdoor kitchens, you now have unlimited opportunity to cook up a feast while hanging with the guests.
For many people it was also about expanding on what they already had going. Maybe some seating around the pool or firepit was nice but what about taking it to the next level. You can literally have and outdoor living room for you, your family members and your friends to enjoy. Why not enjoy the pool, firepit and super comfortable seating with an outdoor entertaining area like this.
So whether you have a small patio area or a large backyard with rolling hills to gaze upon, either way you can do this. Why stick to the square footage inside your home when you can finally expand past your four walls. Now, the important thing is finding someone to work with who can help make this happen for you.
Trust the Amana Experts
By making the wise decision to work with our pros here at Amana Construction team is one of the best ways to have great success, on this or any remodeling project. We can help create the vision you have for your new outdoor living space, or even just help you come up with some creative inspiration to make plans for this new space. Either way, isn't it time to see past your interior walls and find a way to expand your home into your own backyard.
For all of your Houston remodeling and construction tasks, let us show you in person how we got to be number one. As a family owned and operated business, we have been providing the best in workmanship and customer care since 2006. Now, we look forward to working with you and taking care of whatever outdoor living project you have in mind.
If you are looking for Options For Outdoor Living Spaces in Houston then please call 281-935-1755 or complete our online request form.