Outdoor Kitchens & Living Spaces Houston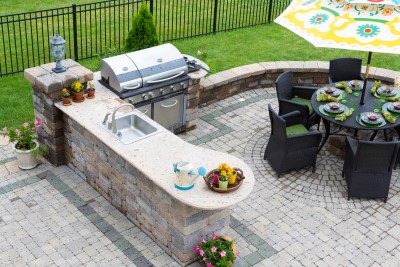 It's easy to see why Houston remodelers report that outdoor living spaces have become as popular as it has. With the ability to finally move past the parameters of the walls of your home, you can truly enjoy your great outdoors. It may have started with the fact that homeowners wanted a way to entertain yet still be interacting with the guests. So instead of being stuck inside their interior kitchen while guests mingled outside, the outdoor kitchen was born.
The first thing you should know is that the team here at
Amana Construction
is the ideal one to rely on for this type of work. We can provide you with the finest in quality workmanship and results and even help you envision all of the exciting possibilities. If you are ready to think outside of the box, ready to maximize your square footage by expanding to your great outdoors, let our experts help you make this happen.
Outdoor Living Specialists
The great thing about outdoor living is that the possibilities are practically limitless. It can be as simple as poolside seating or as elaborate as a whole outdoor living room, backyard kitchen and entertainment area – complete with a firepit. Whether you want a place to host large parties or a more intimate space to simply watch the sunset solo, we can help create an inspired space without walls in which to call your own.
Another reason this is such a great option, aside from also increasing property value, is that it enables you to enjoy your property in ways people have neglected to do for generations now. Give you and your family and friends some breathing room while you take advantage of your entire home and property, by letting us help you expand to beyond your interior walls. Whether you have the perfect idea or need a little creative inspiration, we can help either way and provide you with the results you have always wanted – even if you don't know what that looks like yet.
Houston Outdoor Living
With so many exciting options out there, you need to let us show you what we could do for you. Go ahead and have your second home, right outside on your own property. Get ready to make memories and finally get to take advantage of your own backyard.
If you are ready to start making plans for your Houston outdoor living, give the crew here at Amana Construction a call. We look forward to working with you for this fun project and helping remodel your great outdoors. Get in touch with us today and let's get started.
Houston Outdoor Kitchens Services We Provide:
Outdoor Kitchens
Outdoor Living Spaces
Backyard Kitchens
Outdoor Grills
Gazebo Kitchens
Patio Kitchens
Backyard Covered Grills
Outdoor Kitchen Remodeling
Outdoor Kitchen Upgrades
Houston Outdoor Kitchens Photo Gallery:
Coming Soon
If you are looking for a Houston Outdoor Kitchens remodeling contractor in the Houston, TX area then please call 281-935-1755 or complete our online request form.