Your Houston Kitchen Remodeling Options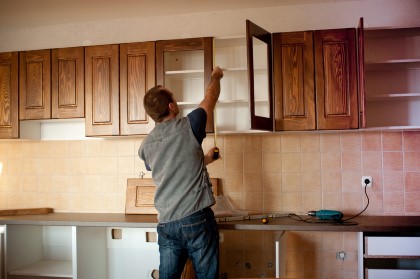 Deciding to take on a Houston kitchen remodeling project is an exciting project. However, without proper planning it could end up becoming more of a headache than you had hoped for. This includes making sure your find the right, qualified Houston remodeling professional to work with for this project.
For starters, you must have a budget in place. Too many homeowners assume they can begin the project and then try to put a budget in place, but it simply will not work that way. Set yourself up for success by having a budget already. Next, it is all about knowing what decision you will have to make and understanding your options.
Making Important Choices
So what are some of the details you will have to make decisions about for your kitchen renovating project?
Kitchen Cabinets

On a new construction project, you will have to pick entirely new cabinets. If this is a remodeling project, you can decide if you want to replace your old cabinets with new ones or just refinish the ones already in place.

Kitchen Countertops

Granite and marble are among the most popular choices homeowners decide on for their kitchen counters. This durable surface is ideal for use and just as stunning as it is functional.

Flooring

You want to make choices that will add to the overall allure and appeal of the room you are trying to create. Your flooring choice should enhance the ambiance and the interior design aesthetics, otherwise it may end up detracting from it. It should also be easy to clean and care for instead of something that you neglect.

Lighting

One of the most overlooked details of just about every remodeling project is the lighting. Even if you have great natural lighting, that is not going to help on overcast days or at night. It's better to have too much and not need all of it, all of the time, than to wish you had more.
Making Smart Choices
One of the best choices you can make, right away, is to work with our team here at Amana Construction for your renovating. Since 2006, we have been the premier choice for locals here in Houston and are proud to be able to continue to be the local leader. Give us a call today to get started.
For all of your Houston kitchen remodeling, and other related tasks, let us take care of your project. We are proud to be a name you can trust. Now, let us show you in person, how we have earned the reputation that we have.
If you are looking for a Your Houston Kitchen Remodeling Options remodeling company in the Houston area then please call 281-935-1755 or complete our online request form.